Nisha Ganatra
"Ganatra brings to her films a certain energy and creativity that mark the best indie features."
-- Filmmaker Magazine
---
---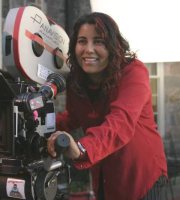 Nisha's acclaimed début feature, Chutney Popcorn with Jill Hennessy, won Audience Awards at the Berlin International Film Festival, Newport Film Festival, Paris International Film Festival and Madrid International Film Festival and Best Feature Film Awards at the Outfest Los Angeles and San Francisco Gay and Lesbian film festivals.
Her sophomore feature, Cosmopolitan starring Carol Kane and Roshan Seth premiered at the South by Southwest Film Festival and was selected by Input as one of the top ten films shown on public television. It was the only narrative film chosen for this distinction.
Nisha directed Cake with Heather Graham, Sandra Oh, Taye Diggs, Cheryl Hines, and Sarah Chalke for LIONSGATE Entertainment and First Look International Pictures.
Nisha's work for television includes the Real World New York and theRoad Rules/Real World Challenge for MTV and the movie FAST FOOD HIGH starring Alison Pill and she wrote the The Cheetah Girls: One World for Disney.
She recently completed Beholder for the ITVS/PBS series FUTURESTATES, a modern day TWILIGHT ZONE series starring Jessica Pare (MadMen), Michael McMillian (True Blood), Rupak Ginn (Royal Pains), Michael Mosley (Scrubs) and Elaine Hendrix.
Her latest feature film, Raga Beats is being produced by Laurence Mark Productions (JULIE AND JULIA, DREAMGIRLS) and she is currently prepping the feature film Just Unmarried with producers Bill Kelly (Enchanted) and Sunil Perkash (SALT, Enchanted)
Nisha has also been presented with Women In Film's Original Vision Award, the Max Factor Filmmaker Award and was selected as one of Filmmaker Magazine's Indie Filmmakers to watch.
[April 2012]
External Links
Nisha's Website (2014)

Nisha Ganatra - IMDb

Jill Hennessy - IMDb

Carol Kane - IMDb

Roshan Seth - IMDb

Heather Graham - IMDb

Sandra Oh - IMDb

Taye Diggs - IMDb

Cheryl Hines - IMDb

Sarah Chalke - IMDb

Alison Pill - IMDb

Jessica Paré - IMDb

Michael McMillian - IMDb

Rupak Ginn - IMDb

Michael Mosley - IMDb

Elaine Hendrix - IMDb

Bill Kelly - IMDb

Sunil Perkash - IMDb
---

March 2010 in LA with Jill Hennessy