| | |
| --- | --- |
| | gujaraatii |
| | hindii |
| | maraaThii |
| | sa.nskRRita |
| | baa.nlaa |
| | tamiz |
| | kannaDa |
| | telugu |
| | gurmukhii |
| | sa.nskRRita |

English-Encoded Text converted to Indian Language Scripts

Output in HTML Unicode format:


Supports:
Gujarati,
Hindi,
Marathi,
Sanskrit,
Bengali,
Tamil,
Kannada,
Telugu,
Malayalam (Unicode only),
Oriya (Unicode only),
Gurmukhi,
Romanized Sanskrit.

Unicode output reference tables:

Reference documents (these are old documents, based on TeX support, so here as a guide only):
---
Online Interface to ITRANS
Important: This interface does not translate English into Indian languages. It only does a form of transliteration - Indian Language Text encoded using the English alphabet is converted to Indian Language Scripts.
Do not use this unless you know the correct spelling of words in the Indian Language.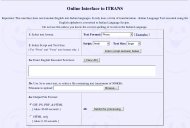 Online Interface to ITRANS - Fill In Form
March 2013 update: this interface now only supports Unicode output. TeX is not supported.
---
Tips, Examples, and Caveats
To enter English text, surround it with ## ... ##
[Both start and end should be enclosed with "##" - two hash-marks]
Use same technique to enter any punctuation other text that should not be processed by ITRANS.
The percent character % is a comment character in ITRANS - everything from a % to the end of the line will be ignored and simply echoed to the output. Use ##%## to get an actual % char in the output.

To use multiple languages or multiple text sizes, specify {script-textsize} in the text itself. You can use the buttons on the form to enter that command automatically after selecting the appropriate language script/text size value. Note that if all your text is to a single size and a single script, there is no need to use the "Enter ..." buttons, and that these commands apply only to the "Prose" text format; they are not used for other text formats.

If the text format "ITRANS .itx input" is choosen, or if a filename is uploaded and the name of the file ends in ".itx", the input will be treated specially --- such text will be directly processed by ITRANS (HTML UTF8 output mode), without any pre-processing by this Online Interface to ITRANS (the {script-size} commands will not be processed). Example ITRANS .itx input.

If the text format "ISONGS .s input" is choosen or if a filename is uploaded and the name of the file ends in ".s", the input will be treated specially --- such text will be processed as if the input were a ITRANS Song Book file, as shown in this ISONGS .s Example (2000+ .s files are available at the ITRANS Song Book archive). Example ISONGS .s input.

Examples of the various options for the "Text Format":
Prose, ITRANS .itx input, and ISONGS .s input

The web form interface (and not the .itx or .s file upload) also does some extra text replacement of the itrans ourput for Devanagari (Hindi, Marathi, Sanskrit) and Gujarati scripts which replaces the following combinations to produce characters from Unicode that are not directly supported by itrans:
ay + .c becomes LETTER CANDRA E
ay-matra + .c becomes SIGN CANDRA E
aa + .c becomes LETTER CANDRA O
aa-matra + .c becomes SIGN CANDRA O

For advanced users: list of common errors and fixes on using this interface. [Not all tips applicable to this interface.]

The button "Enter {script-textsize} below" will work only if JavaScript is enabled. All other features should work on any browser that supports forms.
HTML Output Issues
HTML Unicode (UTF-8) Encoding
Most platforms now have Unicode fonts and are already setup correctly to view Indian language texts. The Unicode output can be viewed correctly on your computer if there is a Unicode font with support for Indian Language Scripts installed, and the web browser is configured to use that font for Unicode UTF-8 documents.

If the browser is unable to display text in Indian Languages, but you know your platform has a Unicode font and Unicode text editor, another option is to save the output file to local disk, and open it using your text editor (like Word 2000 or Office XP), and changing the text to a Unicode font that has Indian Language characters.
---
More fonts and other information available at other sites on the web:

---

Page produced and maintained by: Avinash Chopde <avinash@aczoom.com>, http://www.aczoom.com/.
Last modified: 12 June, 2001.