Last Updated on 2020-05-05
Using a basic recipe, we can cook many different items with a rich gravy Indian style curry.
Chicken, shrimp, rajma kidney beans, potatoes, and much more.
And note the tip on the recipes page – vary or add or omit ingredients as you feel like.
In brief:
1. Heat oil, add whole dry spices.
2. Add finely chopped or even ground onions and heat until just browned. 7-15 minutes.
3. Add ginger + garlic paste, cook for 3-5 minutes.
4. Add dry powdered spices, cook for 1 minute.
5. Add tomatoes. Puree or chopped. Cook until oil separates. Around 4-8 minutes.
6. Add the main ingredient. Cook as required: 15 minutes to 90 minutes.
And in more detail:
Medium-high, heat oil.
Add mustard seeds, and when they pop add cumin seeds.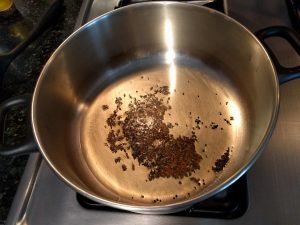 Add full cloves, cardamom seeds, curry leaves. [All optional.]
Cook for a minute.
Add dry spices: asafoetida (hing), turmeric, coriander, cumin powder, red chili powder. Cook for a minute or two.
Grind onions, ginger, garlic in a blender or finely chop. This makes for a good curry base.
Warning: be careful chopping or grinding onion. Eyes will water for hours. Take precautions and wash hands, eyes, and face well after this step.
Alternately, use finely chopped onions – no need to grind them.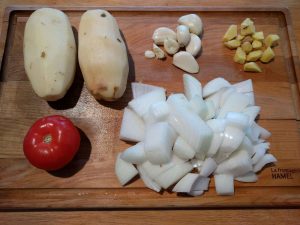 Add the onion paste or finely chopped onions.
Stir often, keep cooking until mixture turns dark. Lower heat a bit if it starts to stick or burn quickly.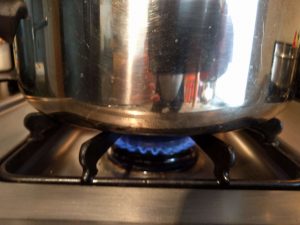 Cook for around 7-12 minutes. This is done when oil starts separating out of the mixture.
Add ginger garlic paste, if not already ground with with the onions. Cook for 2-3 minutes.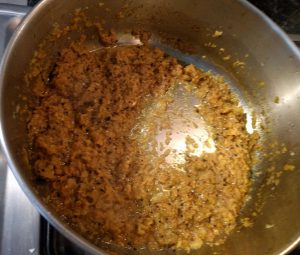 Add minced tomatoes. Or tomato paste or puree. Experiment with what you like best. Canned tomatoes just fine for this.
Keep cooking until tomatoes are all incorporated and you can start seeing some oil separate out. 10-15 minutes.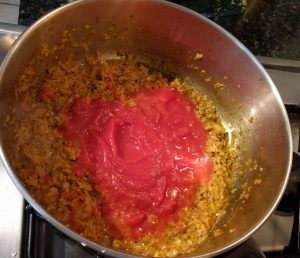 Now add the main ingredient.
Chicken: can saute/fry it before, but if in a hurry, just put uncooked chicken and saute it for 10-15 minutes.
Add water as needed, and on a simmer, cook for 1-2 hours. More time for chicken with bones.
15-20 minutes cooking for potatoes.
10 minutes or so for shrimp.
5 or 10 minutes before it is all done, add garam masala (or add this after the onions+tomatoes are cooked).
Add coriander leaves at end to garnish.
In terms of quantities – use equal weight of chicken and onions. Tomatoes a bit less, much less if using paste or puree.
Rajma: soak dry kidney beans overnight.
Potato curry: After the tomatoes are cooked, add cubed potatoes. Add a cup or two of warm water, bring to boil, and cover and turn heat down to very low to keep water boiling.
Potatoes will be done in 15 minutes or so. 5 minutes before it is done, add green peas.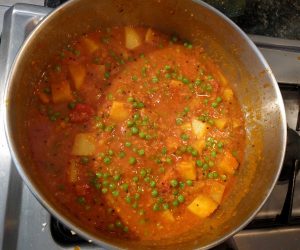 Quantities example for potato curry – vary as needed:
1/2 teaspoon asafoetida (hing)
2 teaspoon cumin powder
2 teaspoon coriander powder
1/2 to 2 teaspoon chili powder – spiciness varies, know your chili powder
1 teaspoon garam masala
Salt as needed – add a bit to onions, and then 1/2 teaspoon or so when tomatoes are cooked
Then at end, taste the curry and add salt as needed.
3 or so small tomatoes or 4 tablespoon puree
2 large potatoes or 1 pound boneless chicken
2 large onions
2-3 tablespoon of ginger
2-3 tablespoon of garlic – 6 large cloves
6 ounces petite peas (for potato curry)
Fish curry:
For this, I cooked the fish separately to start with, and then added it to the curry.