Last Updated on 2020-05-05
This is cooked in an Indian style. Similar to country cooked omelette with browned surfaces and not a light yellow french style omelette.
Traveling in India, this is similar to what street vendors offer. Especially the pan-grilled buttered bread.
My normal method is this:
Medium-high heat. Add oil. When hot, add finely chopped onions and chopped green chili or red pepper powder. Cook for 4-7 minutes to required doneness.
Add diced tomatoes. Cook for 3-7 minutes more.
Whisk two eggs with salt and fresh ground pepper. Optionally, add a tablespoon of whole milk or cream.
I also add a large amount of chopped cilantro (coriander leaves) to the egg mixture.
Add to fry pan, lower heat a bit. Stir a bit at start if needed, otherwise leave it alone for 2-4 minutes until the top looks mostly cooked.
Then either fold in half, or flip the omelette (if possible).
Cook for a minute.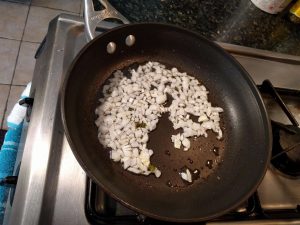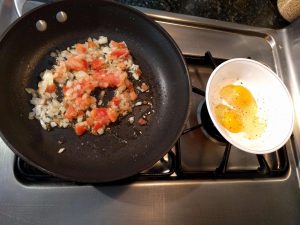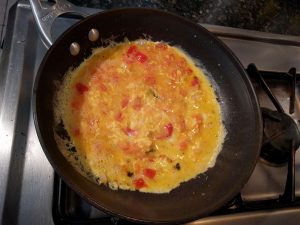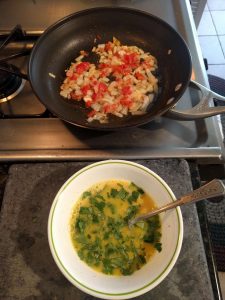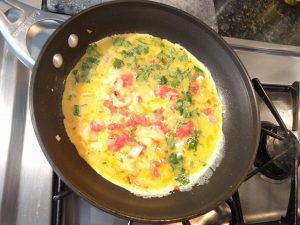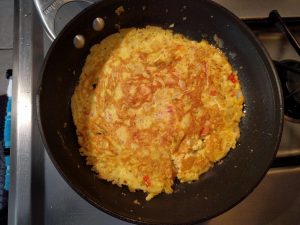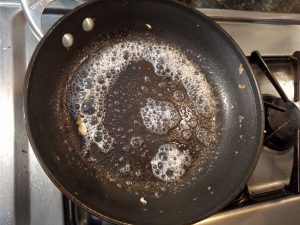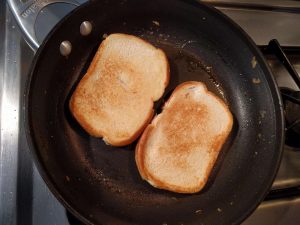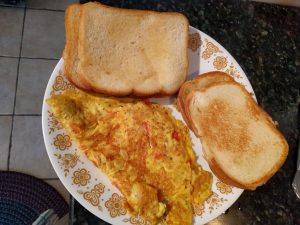 Now for the bread. Instead of just toasting bread, pan-grilling buttered bread is a good change.
If you have soft butter, then butter each side of the bread and then pan-grill it.
In cold weather, I heat butter in pan and and use that to apply butter to both sides of the bread and then pan-grill it.
Increase heat to high and add bread slices. Press the bread if needed but otherwise do not move the bread so as to get it nicely browned at the bottom.
Cook for 1-2 minutes, then flip it over and repeat.
Alternate method: Instead of frying onions and tomatoes first, try adding those to the eggs after the eggs have been whisked and then drop that whole mixture into a medium-hot frying pan and then cook as above.