Last Updated on 2022-08-10
Quebec has a nice bike trail system: La Route Verte.
Montreal biking, especially in Verdun, means great views riding along the St Lawrence river.
This post is about a ride from Verdun Beach to Estacade du Pont Champlain and Chemin de la Petite Voie du Fleuve.
It crosses two bridges over the St Lawrence river.
La Route Verte 5 from Verdun Beach is the starting point for this bike ride going north and east.
Then to Route Verte 1 and Nun's Island (Île-Des-Sœurs) bridge bikeway. This runs along side highway Rt 15.
Then cross the island bikeway to get to the 2.3 km Estacade du Pont Champlain.
That ends in Chemin de la Petite Voie du Fleuve which is a long thin strip of land in the river and has bikeable non-paved gravel bike paths. That part of the land only accessible by the bike path!
The above round-trip path is around 11km. That can be easily extended before the start or after the end to cover 30km or more.
The effort required is low – mostly flat path with elevations around bridge entry points.
From the Montreal city bridges web site: Looking for an exceptional view of the St. Lawrence River? During the day and evening, cyclists and pedestrians can take the 2-km bicycle path over the Estacade from Île des Sœurs to the seaway dike bicycle path network.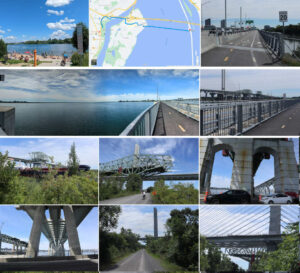 ---
Night ride
Summer days are hot so good to ride at night. Clear moonlight and street light offer good views, but a couple of important points to note. Bugs! So many, in some parts of the ride. Should wear clear or night-lens closed eyewear to avoid bugs getting into eyes. And keep mouth closed.
And on the night of Fri Aug 5 2022, at 9pm, a long stretch of the Estacade was being used by birds! Lots of birds. Biking through them was scary – they would fly at you but go over your head.
On the Chemin de la Petite Voie du Fleuve end of the Estacade also got covered by many cobwebs! No spiders though (I think, I hope), thankfully.
Still all worth it – the views are great and the night was cool at 75F/23C. Only saw a couple of other riders and people walking at that time.
Should also try this in winter months. The trail is open April through December, so November would be a good bug-free time for night rides before it closes.
---
Parc René Lévesque
Another good ride on the south side from Verdun is to the Parc René Lévesque.
Two options: ride via Bd LaSalle next to the river, or the bike path along the Lachine Canal. This is around 10km one way.
---