Last Updated on 2020-08-28
saabudaaNaa khichaDii (साबुदाणा खिचडी)
Comfort food: Sabudana Khichdi
In Marathi: साबुदाणा खिचडी
Time: 30-60 minutes (4-8 hour including soaking time)
Serves: 3-6
Sabudana (pearl sago) – 1 pound (around 2 cups)
Peanuts – 1/2 pound
Cumin Seeds – 1 tablespoon
Green Chillies – chopped, as needed
Boiled potatoes – chopped in small cubes, two large
Curry Leaves (kadi patta) – 2 to 4
Salt to taste
Wash sabudana in water for a minute, drain nearly all of the water, level should just cover the sabudana, and leave in covered vessel for half-hour. Then drain all water, and leave covered for 4 hours or overnight. When done soaking, no liquid should be left, and all the grains should be soft but not mushed together – pressing between fingers should find no hard material in the middle, should be soft all the way.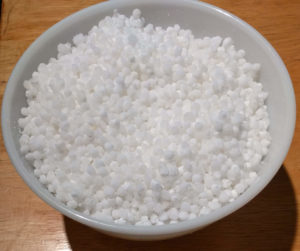 Soaking is the most important part of this recipe. The biggest issue is not using enough water to make all the grains soft.
Using water that fully covers the sabudana, with a bit over it, usually is sufficient.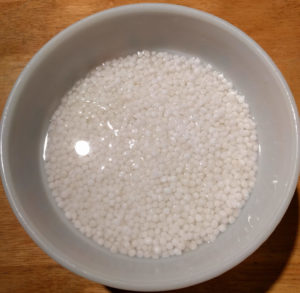 Toast the raw peanuts in a pan, and then let them cool down. Then coarsely grind the peanuts in a blender or mixer or similar.
Heat oil, add curry leaves, cumin seeds, green chillies, fry for a minute or so. Add cubed potatoes, cook until brown, around 5-10 minutes.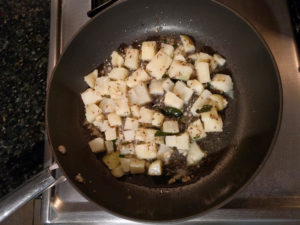 Add the sabudana and cook on low heat for 10-15 minutes, until the color turns from solid white to more of a translucent color, stirring frequently to prevent clumping. This part can be cooked covered.
Mix peanuts into the sabudana, cook for 5-10 minutes more, until color turns light-brown.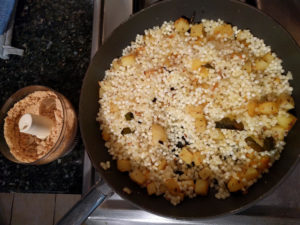 Garnish with chopped cilantro.
Serve with plain yogurt.
Fix hard grains: When eating, the grains should feel soft. If not, then add hot water, cover, and cook for 5-10 minutes. Stir every 1-2 minutes. Feel free to add water during the cooking phases above too.
Another recipe, external link: Aayi's recipes