Last Updated on 2019-03-16
Sunshine Village is huge! It has 3 mountains: Mount Standish, Lookout Mountain, and Goat's Eye Mountain.
As an intermediate skier, I only skied the Green and Blue slopes.
2019-Mar was very clear so could see things clearly and see far – the mountain did not seem that big back in 2017-Feb when it was cloudy with no sunshine.
In 2019-Mar the immensity of the mountains felt awesome and a bit terrifying when riding the lifts and when standing on top of Lookout mountain. The snow goes on and on and there are no trees to break the view at the top! It looks scary and I felt a bit queasy riding up the chairlifts and standing at the top of a ski trail. And the wind was strong (they did close down the Great Divide chairlift later that day), so felt even scarier. It was also painful what with the blowing snow hitting the face like thousands of tiny pin pricks!
Even with so much wind blowing the snow around, which looked like a thin layer of fast moving cloud on the snow, the ski trail was not a solid ice block (as it would have been on East Coast US ski areas), it still had sufficient snow to ski on.
Very nice skiing and no lift lines! This is a good place to go skiing.
Skied here in 2017-February and 2019-March.
This is the 2019-March ski report.
Back in 2017-Feb Banff was very cold. -30C in the morning.
2019-Mar was much warmer. -15C one morning and then quickly warmed up to 0C.
On the slopes it warmed up to -5C by the afternoon, so very nice ski conditions (except for the very strong wind).
Even with the cold in 2017-Feb, I did ski all three mountains.
In 2019-Mar I did not go to Goat's Eye.
Car parking is at Sunshine Base area. Then take a 20 minute 4.6km gondola ride to Sunshine Village ski area.
In the morning, best to go to the last stop on Gondola to get to the Mt Standish chairlift.
There are lockers at the base area. Use this if storing stuff that is not needed while skiing. There are racks to keep stuff at the Sunshine village base area, but this means you may have to take gondola back instead of skiing back to the base area. So only take things on gondola that you will consume or easily carry back while skiing back.
The Green trails are generally easy, though they can be steep at multiple places. There is also a narrow steep area where Creek Run meets Prune Pickers Pass, with off-limits steep slide just next to the trail.
The big problem with a bunch of Green trails here is that there is one part when the slope goes up so have to walk up a bit to get back to skiing downhill! Very tiring!
The Blue trails are better in that regard.
Avoid the Wawa chairlift unless you can ski Black marked trails because it requires climbing up from Wawa base area to the other chairlifts as well as to the lodge.
A risk on the Blues and Blacks is that moguls are not marked. And there may be bunched up snow on ungroomed Blue trails too.
Some Black trails are only slightly more harder than the Blues, as far I can tell from looking at it from the chairlifts.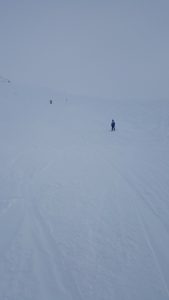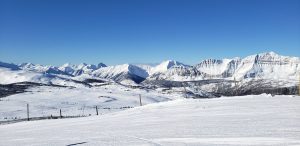 Sunshine Village top of trail video:


Apart from skiing, it is well worth visiting Johnston Canyon for the Icewalk. It is icy and slippery so shoe ice cleats are highly recommended and essential if going to the upper falls area.
It is a 2-3 hour hike.
There are many hikes around Canmore area too.
Lake Louise has a free ice skating area on it, and skates can be rented at the adjacent Lake Louise hotel.
There is also hiking on and around Lake Louise.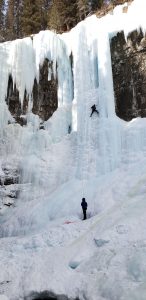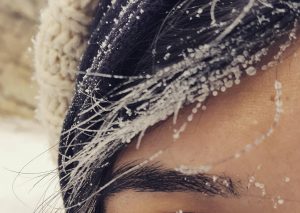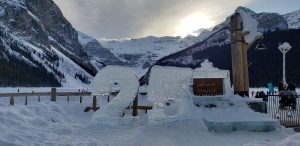 Plenty of good food in Banff and Canmore, with many options. Lake Louise is very small so not much to do post-skiing or hiking.
When roads are cleared of snow, Sunshine Village is 35 minutes by car from Canmore and 20 minutes from Canmore. There are bus shuttles from Banff to Sunshine Village (and Norquay and Lake Louise ski mountains).
Banff National Park Pass is required and can be purchased in advance or at the toll both just before Route 1 enters Banff.
Ski rentals are good and easy even for walk-in rentals at Ultimate Sports on Banff Ave in Banff. In Canmore, reservations in advance are required at the couple of shops that I checked.