Last Updated on 2023-07-17
Xi'an Famous Foods is worth the long trek down to Flushing, Queens. And one of their best items travel well too – the cumin lamb burgers – though be aware that the appetizing, hot, spicy smell of the food pervades the subway, the bus, and car, so make sure it is wrapped well!
The best item here is the Spicy cumin lamb with hand-ripped noodles plate. Chewy flat noodles in a spicy sauce. Noodles taste great but are difficult to eat, very long strands! I usually use the spoon to cut them into manageable pieces and then use the chopsticks. I wonder what is the right way to eat them. ? If this was served in a bowl, then would be easier to eat. On a plate, have to be careful and try to avoid splashing drops of the spicy liquid all over the table when shoving the noodles into ones mouth!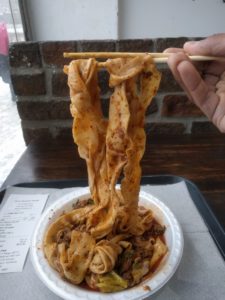 Their original location is in Flushing, Queens, New York at 41-28 Main St underground eateries.
This place has only 6-10 seats.
For nicer surroundings, visit the adjacent restaurant at 41-10 Main St.
Both are self-service.
If walking from the Train 7 Flushing station on Main St, 41-10 is around 3-5 blocks down, and 41-28 Golden Mall location is another 2 blocks down.
And now they have multiple locations in the city too – mostly downtown, in and around Chinatown: 45 Bayard St is one location. Most locations are quite small, with very little seating. And it can go from empty to crowded in seconds. Think standard NYC hole-in-the wall type of place, with great food. Visit their website at xianfoods.com for their current locations.
While it is difficult to take home the cumin lamb since it has a lot of liquid that can slosh around, the lamb burgers are a better bet for takehome.
If you do take the lamb cumin burgers home, sprinkle some lime juice on them, to kick up an already excellent dish another notch!
[2015] They have a full-service restaurant two blocks away at 41-10 Main St. They label it as a chic version of their original restaurants and have renamed it to biang!. It does look really nice.
Update: As of January 2017 (maybe earlier), the name is back to Xi'an Famous Foods and it is also self-service like most (all?) of their other locations.